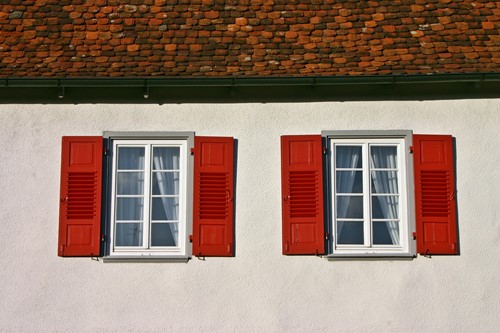 Increasing the curb appeal of your home's exterior might feel like a gigantic project. With so many details that combine to make up the aesthetic of your home it's difficult to know where to start. It can be even more difficult to budget for a long list of upgrades. Luckily, there are some simple changes you can do yourself and save money.
Here are some simple DIY projects to boost your curb appeal:
Add Window Shutters
If you have small windows you might think you're stuck with them unless you do a complete remodel. Luckily there are some impressive tricks to make your windows appear larger with no major construction. One of the easiest ways to accomplish this is to add faux window shutters. Inexpensive plastic shutters are widely available in a variety of sizes, colors and finishes and can also be painted to match your home. You can purchase shutters in kits that come with their own fasteners that will attach directly to your home siding. All you need is a cordless drill and a hammer to install them.
Not only do faux window shutters make your windows look bigger, they also add a timeless charm to your home. They are also a great way to break up an otherwise blank slate of a facade. Choosing a color that contrasts with the walls but fits within the home's overall color scheme will add visual interest and make your home stand out from a distance.
Disguise Eyesores
Another easy DIY project to improve your curb appeal is to hide any utility components that detract from the beauty of the home. These can include anything from electrical boxes, exterior piping and cables to your air conditioner. The easiest way to disguise components attached to the house is to paint them the same color as the siding so that they blend in rather than interrupt a beautiful facade. Make sure you work safely when painting and use the correct primer for the utility surfaces.
For larger components like air conditioner units, painting might not be enough to disguise them. Instead, you can arrange plants, either planted or in containers, to block them from view while adding extra greenery to the home. You can also purchase a small amount of fencing to go around the unit. Whatever you use to disguise your air conditioner just make sure you leave it accessible for any maintenance.
Add Faux Stone
Want to add instant charm or dress up an exterior wall on a budget? Consider adding some faux stone panels. Natural stone has a classic aesthetic appeal but can fit any architectural style. While full natural stone siding is expensive and time-consuming, these panels come in kits and in various sizes and styles to add the look of actual stone without the hassle and price tag. This is an especially great way to dress up a concrete slab foundation. Simply attach the panels with adhesive and snap together like puzzle pieces to cover the area desired. This will instantly boost the curb appeal of the entire home, even if you only cover a small area.
When it comes to curb appeal, every improvement you make is an investment. Whether you're planning to sell your home or simply want it to look better, there are plenty of changes you can DIY while boosting your home's resale value and aesthetic.